Ferrari Memo From 2017 Acknowledges Dealer Practice Of Rolling Back Odometers
0
Last year, fired Ferrari showroom salesman Robert "Bud" Root of Florida filed a lawsuit against Ferrari that alleged he was only fired because he objected to the dealer's use of a proprietary diagnostic tool to reset some customers' odometers. Now, the Daily Mail reports that an internal memo from Ferrari, issued in April of last year, acknowledges that the Italian sportscar company was aware that its DEIS Tester was being used to reduce the odometer readings on customer cars.
The memo was filed in court in relation to Robert Root's lawsuit earlier this month.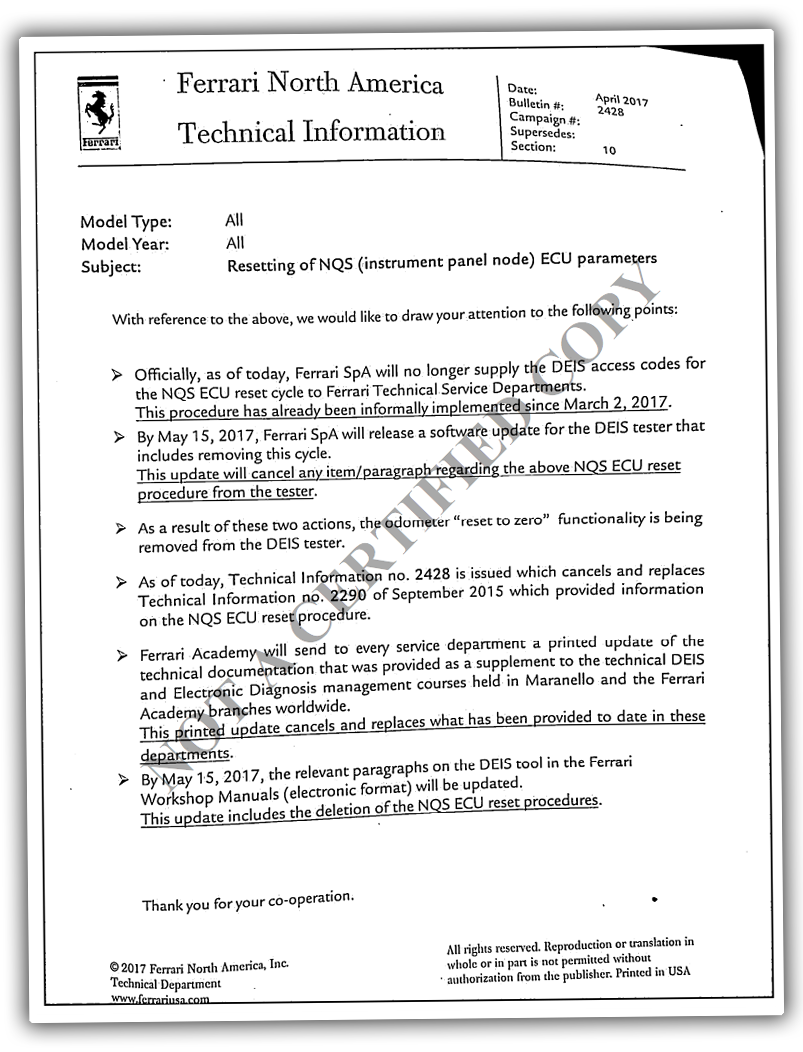 Interestingly, the first line of the memo reads that Ferrari "will no longer supply the DEIS access codes for the NQS ECU reset cycle," which suggests that each time a dealer wished to roll back a car's odometer, they had to receive electronic approval from Ferrari first. This lends credence to the notion that this is not an isolated incident of a single US Ferrari dealer rolling back odometers to increase resale values, but a more broad, systemic practice.
The memo then went on to say that Ferrari would release a software update to remove the NQS ECU reset cycle by May 15th – i.e. "the odometer 'reset to zero' functionality" was removed, in the memo's own words. Ferrari's Workshop Manuals were also updated to remove any sections about performing an odometer reset, according to the memo.
Ferrari's Response
After the Daily Mail story broke, Ferrari North America Director of Communications Krista Florin emailed the outlet, saying the Italian automaker didn't do anything illegal.
"Resetting an odometer to zero in case of a malfunction of the odometer when the pre-repair mileage is unknown is consistent with the federal odometer law," Florin said. "What the DEIS tool is allowed to do with respect to the odometer was therefore permitted under U.S. law."
But last year, Florin said, "Ferrari determined that the risks of odometer fraud in the United States from unauthorized use of the DEIS tool outweighed the convenience of this functionality of the tool, and thus, Ferrari has informed its network with a technical bulletin that a software update to eliminate the odometer reset functionality of the DEIS tool was necessary and disabled this functionality."
According to the Ferrari North America Communications Director, the timing of the memo had to do with that software update – not with Robert Root's lawsuit or any subsequent reports on the matter. She told the Daily Mail that the reset couldn't be performed after the odometer exceeded 310 miles.